The host of the 31st Universiade Table Tennis Tournament and the 25th China Universiade Table Tennis Championships welcomes a major event this autumn in October in Chengdu High-tech Zone Sports Center-The 56th World Table Tennis Team Championships, from 30th, Sep till the 9th of October.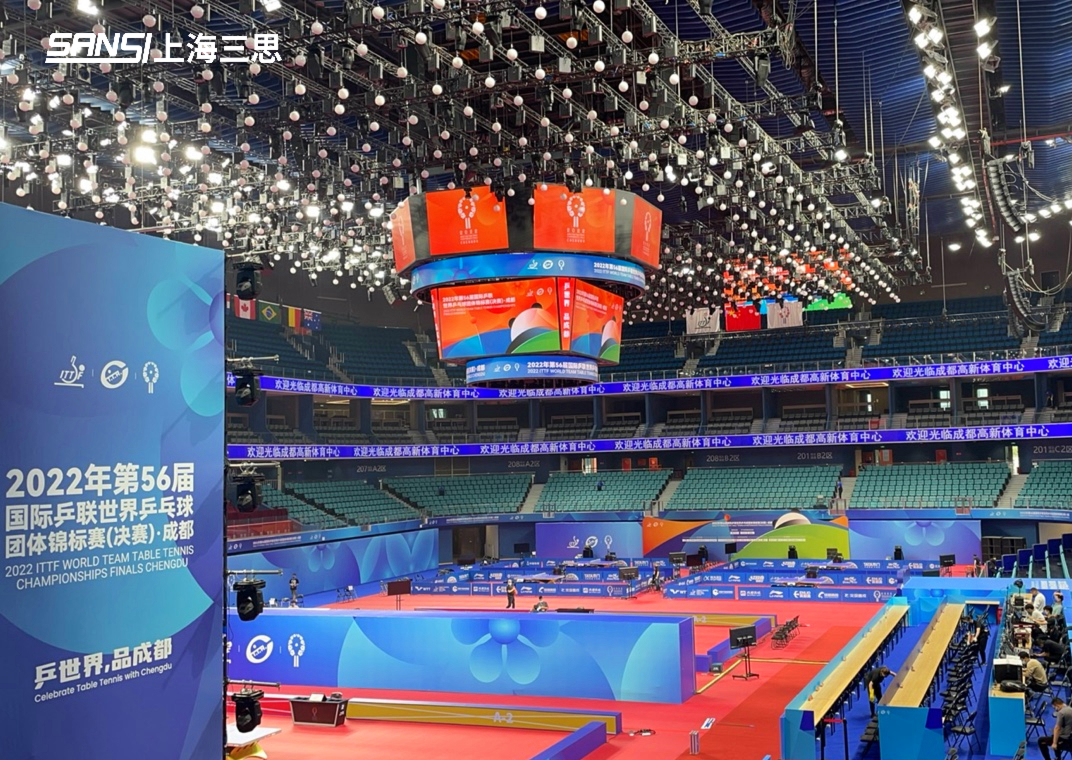 The center covers a total area of 201,600 square meters, which is equivalent to the size of nearly 10 gymnasiums in Sichuan Province. It consists of a multi-functional gymnasium, a national gymnasium, and a service center. Among them, the multi-functional gymnasium is a large-scale Grade-A gymnasium, which can meet the requirements for various large-scale events, ice rinks, concerts and other venues.
With high-quality display products and strong customization capabilities, Shanghai Sansi has provided the venues with liftable stadium LED screens, end LED screens, stand LED ring screens and other products and systems, with a total display area of nearly 900 square meters, adding charms to the exciting events.
Chengdu High-tech Zone Sports Center
Multifunctional gym Stadium LED Screen
The stadium LED screen located above the center of the multi-functional gymnasium, manufactured by Sansi, is the highlight of the venue.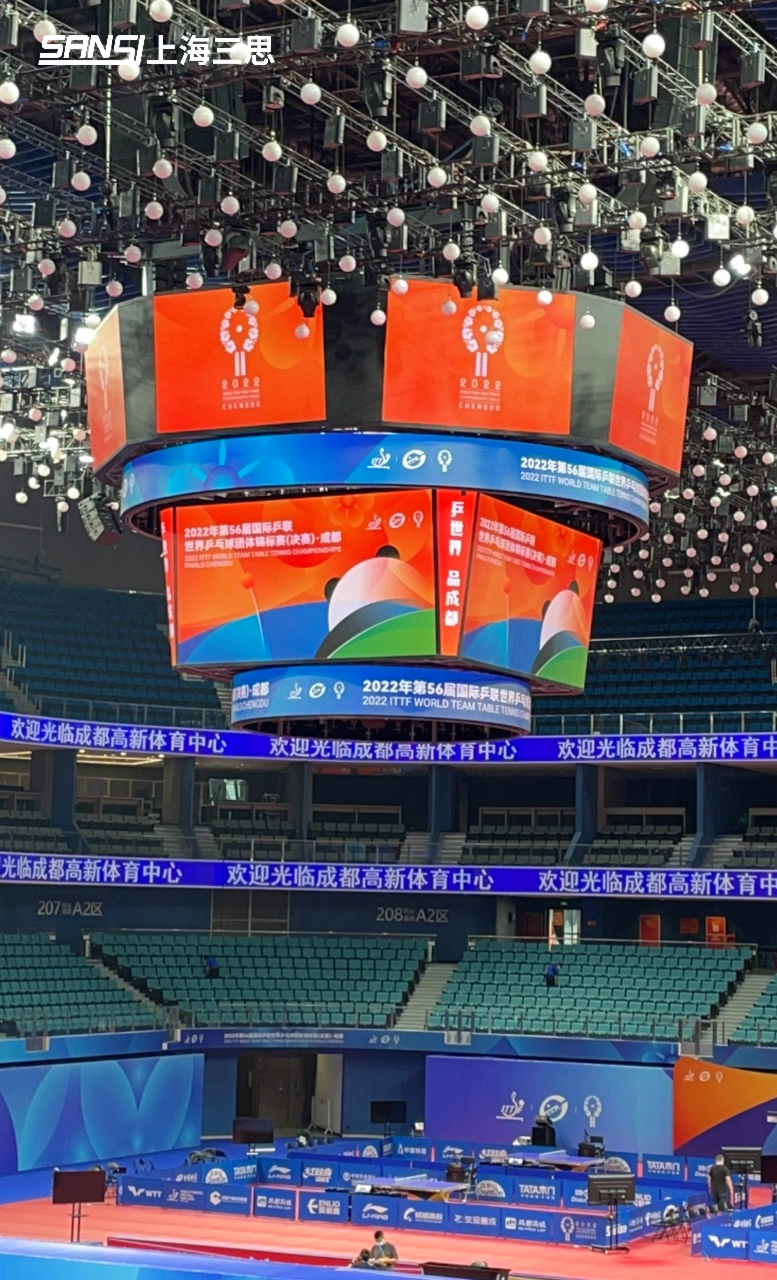 Stadium LED screen is a kind of display equipment with complicated production process. In professional sports events, professional stadium LED screen is adopted for reliability and safety. Sansi specially customized the stadium LED display of nearly 200㎡ according to the needs of venue size, seats, and events.
This is a group of bucket-shaped LED screens that support remote control system and hoisting and liftable system. It is composed of eight-sided screen, four-sided LED screen, four-sided corner screen and high-low area ring screen. There are four layers and 14 facades. The surface splicing is compact and independent. The products and solutions fully reflect the excellent structural design and engineering ability of Sansi.
At the same time, in order to prevent abnormal situations, the bucket shaped screen is equipped with an automatic limit device. When it rises or falls to a predetermined height, the lifting system will automatically stop running to realize the protection of the upper and lower limit positions.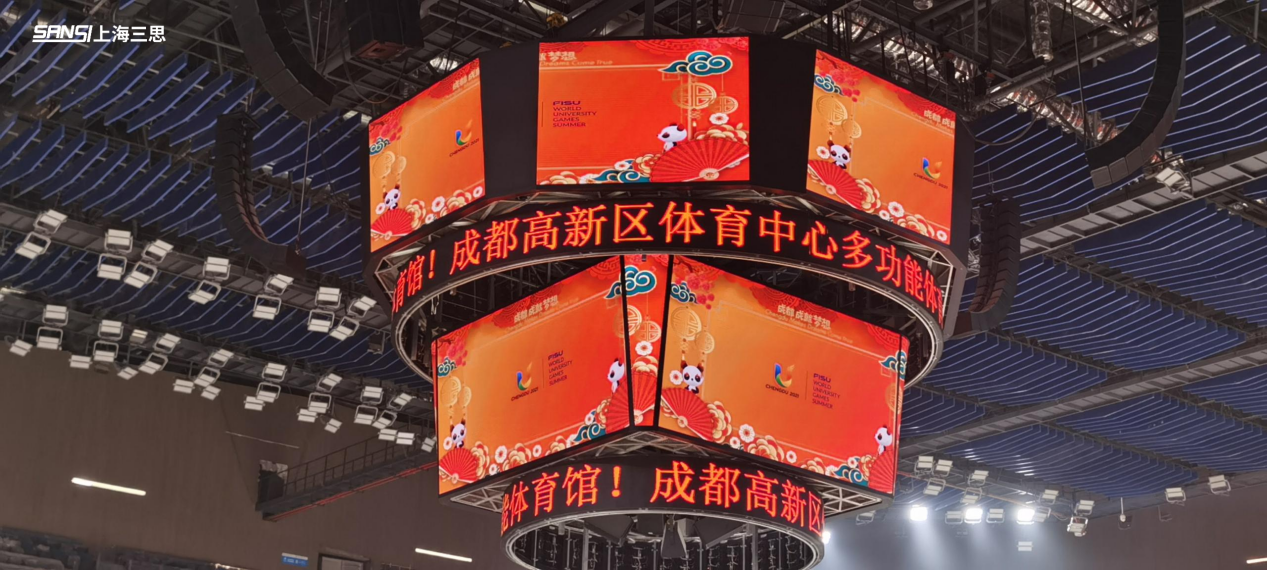 The bucket-shaped screen can be adjusted up and down according to various occasions in the live broadcasting of the event, and captures the wonderful moments, lens playback, live synchronous live broadcasting, game information broadcasting, timing score statistics, advertisement broadcasting and other tasks.
Chengdu High-tech Zone Sports Center
Multifunctional stadium LED end screen & ring screen
In addition to bucket screens, Sansi also provided end screens and ring screens for the stands in the stadium.
The end LED screen adopts Sansi full-color LED screen, which is used for synchronous live game broadcasting and advertisement playback of. The LED ring screen surrounds the stand and is divided into upper and lower layers that It can be used to play different content such as interactive scenes of the event. The total area of the end LED screen and the ring LED screen is over 600m²; and the wide viewing angle makes it possible to watch from any position, allowing the audience to experience the fun of the live event immersively.
For this project, Sansi LED indoor full-color displays are used. The product supports customized maintenance methods. In this project, rear-maintenance is adopted according to the project requirements; it supports various installation methods such as floor-standing, wall-hanging and wall-mount; it supports environmental protection communication backup, and with high communication reliability; the display is with uniform color, high contrast ratio and vivid pictures; ultra-high refresh rate with coherent and natural picture.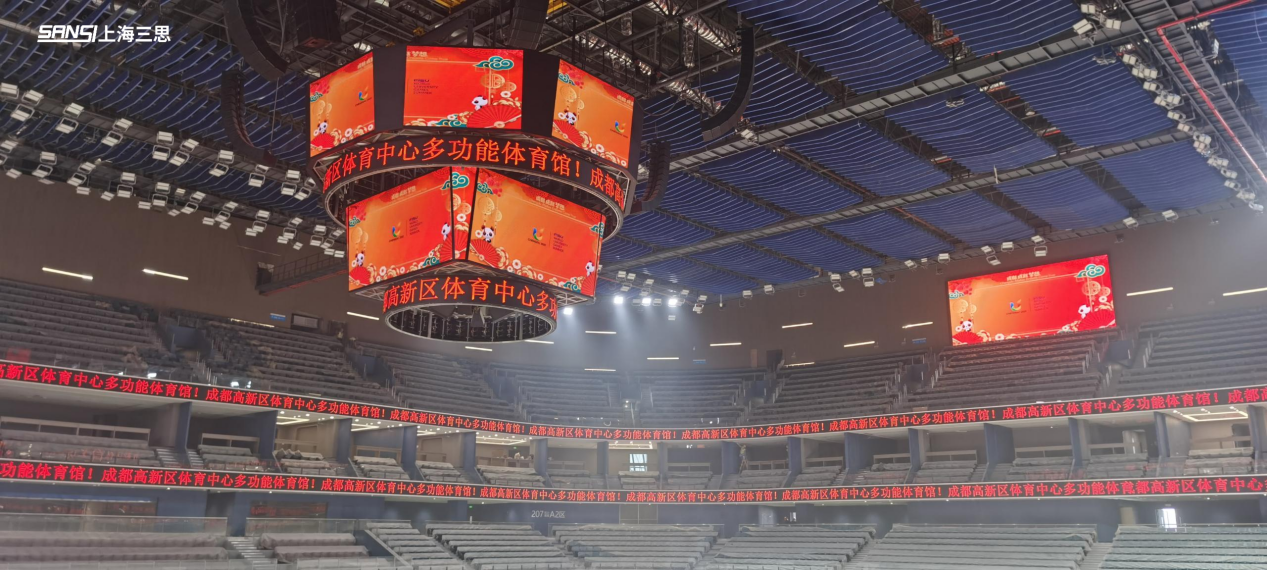 The completion of the stadium will inject new vitality into the local development of sports event culture and urban upgrading. At present, Sansi occupies a certain proportion in bucket-type screens in stadiums in China. Products and solutions have been used in Shanghai Stadium, Shanghai Mercedes-Benz Arena, Suzhou Olympic Sports Center, Xi'an Olympic Sports Center, Fuzhou Strait Olympic Sports Center, Shenyang Olympic Sports Center and many other sports venues.