The North-South Expressway of Montenegro, is part of the "One Belt, One Road" construction project. Being one of the key infrastructure projects in Europe, and it's total length is 40.87km, 16 tunnels and 4 interchanges with a bridge-tunnel ratio over 60%, known as Montenegro's "Project of the Century", and Chinese LED Technology Enterprise——Shanghai Sansi Illuminated the entire line and ensured "Belt and Road" development.
When night falls, almost 10,000 LED lights turn on replicating uniform natural daylight. The natural sunlight effect enhances the long and grand appearance of the road. When viewed from a height the bright light belt, creates a glint in observer's eyes. The recent commissioning of the North-South Expressway in Montenegro, and its successful illumination, produces an important infrastructure jointly built via China and Montenegro relations, promoting better progress in commissioning, and its opening to traffic will be monumental!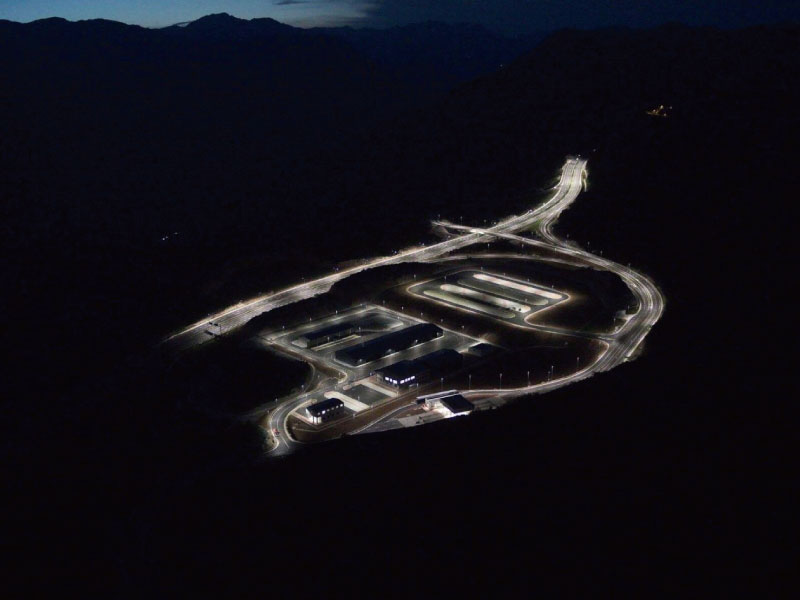 The Montenegro North-South Expressway is an important construction project of the "Belt and Road Initiative", and it is also one of the key infrastructure projects in Europe at present. The total length of the expressway is 40.87km, with 16 tunnels and 4 interchanges, with a bridge-tunnel ratio of over 60%. Known as the "Century Project" of Montenegro, it is a high-speed project implemented by China in Europe with the highest altitude, the most complex geological conditions, and the most difficult construction. After completion, it will be of great significance to improve the level of road operation in Europe.
The project construction implemented high international standards, and the selection threshold for suppliers was incredibly strict. The constructor has comprehensively inspected many well-known license enterprises in the world in terms of technical strength, project experience, product quality and other aspects. In the end, Shanghai Sansi stood out from a group of internationally renowned manufacturers and was selected to supply the lighting products and integrated systems for the project, providing nearly 10,000 LED lights and comprehensive solutions for bridge lighting, tunnel lighting, intercommunication lighting, and approach lighting. The completion of this international cooperation has played a supporting role and exported a strong international reputation of "Chinese technology".
Road lighting
Taking into account both lighting and beautification
In this project, while complying with CE/ENEC European standard certifications, the lights also need to meet the project's high-performance requirements such as LM79, IP66, IK10, etc. The lighting indicators are required to meet the M1 lighting standard required in EN 13021. Through scientific light distribution design, Sansi not only meets high-standard lighting optical needs, but also improves illuminance and light utilization according to local conditions, in line with the concept of green and sustainable energy. At the same time, it creates a natural beauty through lighting, displaying the distinct style of the road.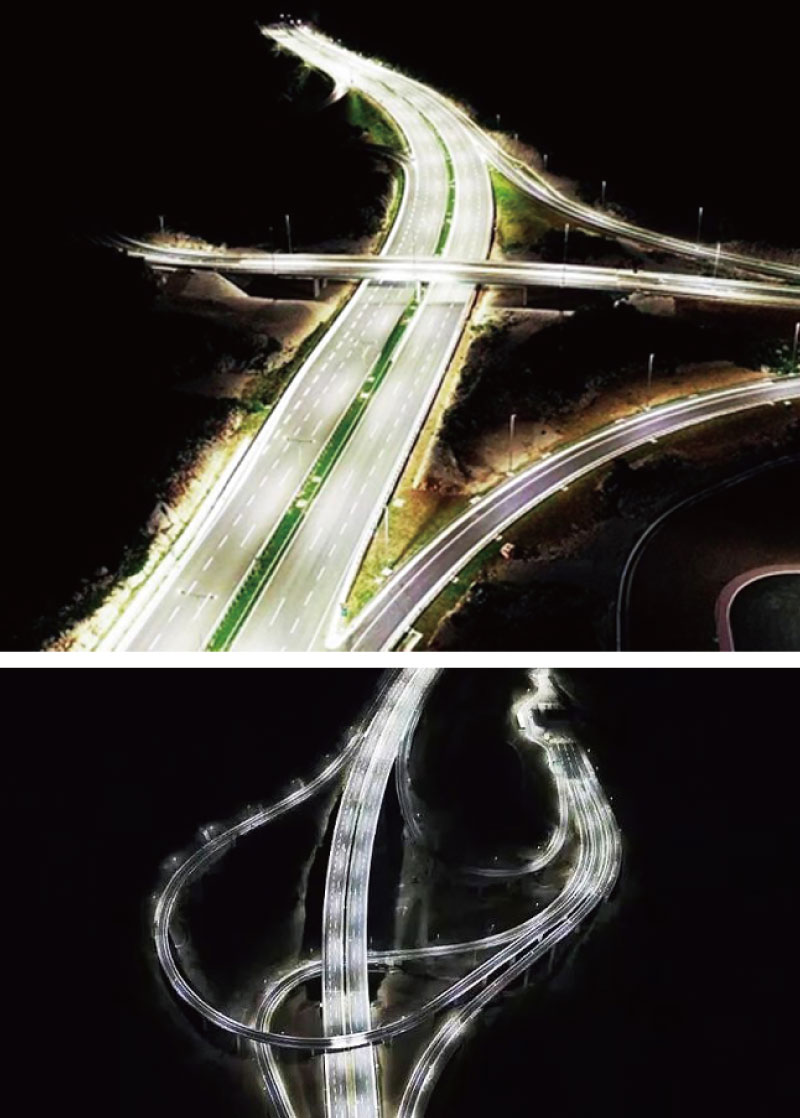 The product utilizes Sansi's patented ceramic heat dissipation technology within each street light, which can well meet the needs of road lighting and has the following advantages:
-Sansi's faster more effective heat dissipation
-Narrow section design, effectively reducing wind resistance and improving safety
-High-efficiency LED chips, effectively reducing light decay, ensuring stability and durability
-Multi-directional lens optical design to meet the optical functional lighting needs of various scenarios
Tunnel Lighting
Special "Backlighting Lights"
The bridge-to-tunnel ratio of the North-South Expressway is as high as 60%. In addition to the lights that need to meet the European certification standards, the tunnel lighting also adopts the counter beam lighting system required in CR 14380, and Sansi has developed specific optical lenses for European lighting.
In the transition section of the entrance and exit, Sansi's backlight ceramic cooling tunnel lights were used, and a special backlight lighting layout was designed. Being different from conventional lighting, this solution has higher road visibility and natural light-dark transition, reducing the probability of glare and stroboscopic problems that may be caused by environmental conditions at tunnel entrances and exits. The result is restoring clear vision, and greatly improving driving safety and comfort. At the same time, this method has lower maintenance cost, low consumption and conserves energy.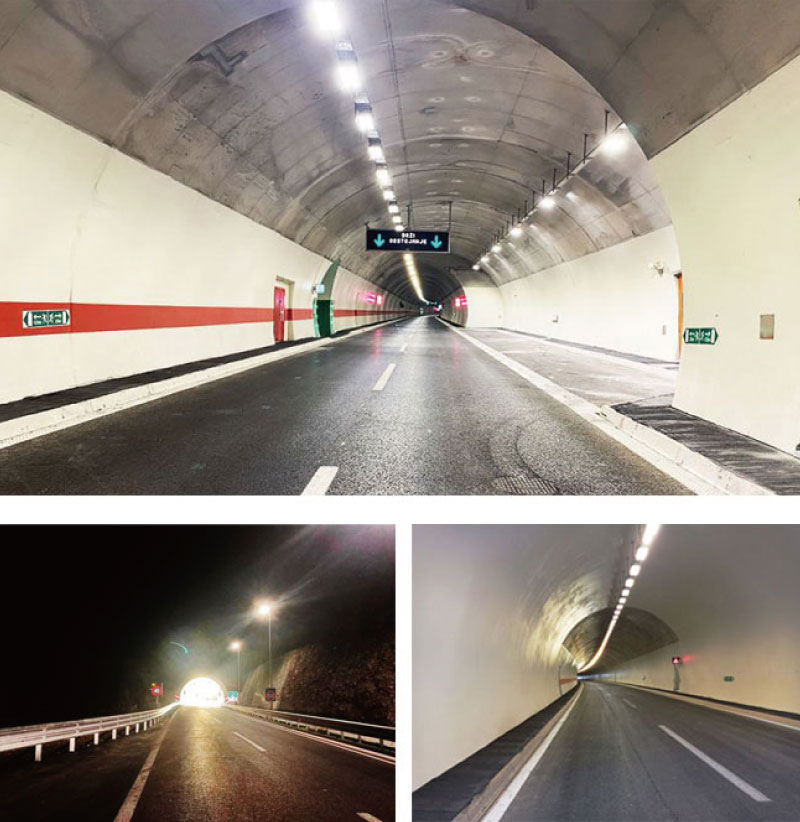 Interchange
Efficient and Safe Lighting
Interchange plays an important function of traffic flow conversion, and lighting is a crucial factor to ensure driving safety. Sansi provided a street lighting fixture with high-brightness LED's as the light source for this project. Sansi not only improved traffic conditions, road capacity and traffic safety, but also improved the overall aesthetics of the road.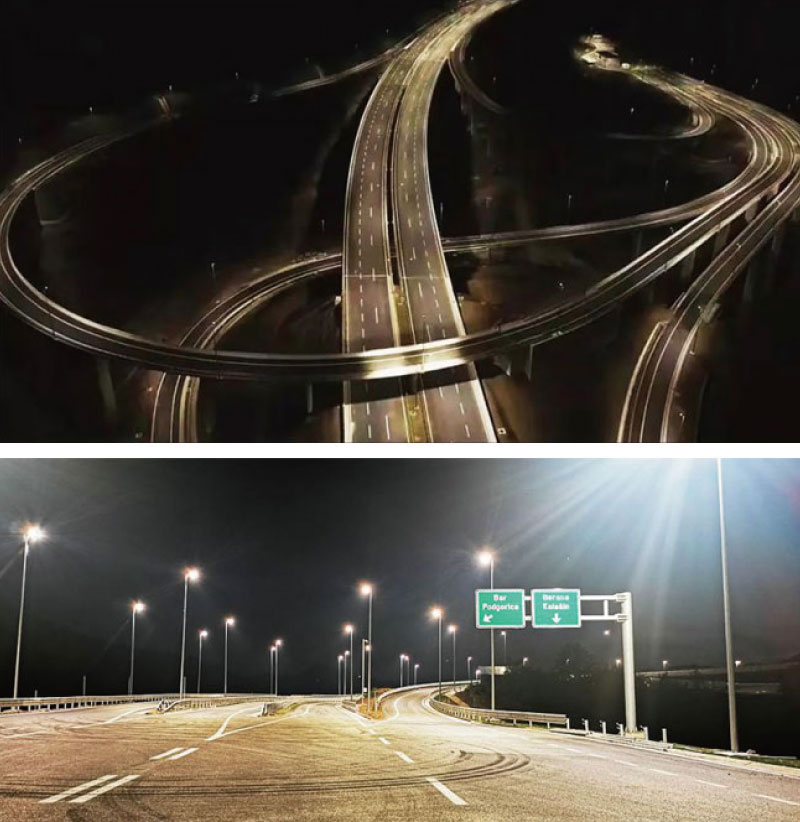 Ceramic heat dissipation technology
Sansi Self-Created, Scientific and Technological Innovation
All the lighting products applied to this project use Sansi's ceramic heat dissipation technology. This technology is one of the core technologies independently developed by Sansi. It uses non-conductive ceramic materials to make the heat dissipate, and directly welds the LED chip on the ceramic heat sink, which solves the problem of the thermal resistance of aluminum substrates used traditional LED lights during the heat transfer process.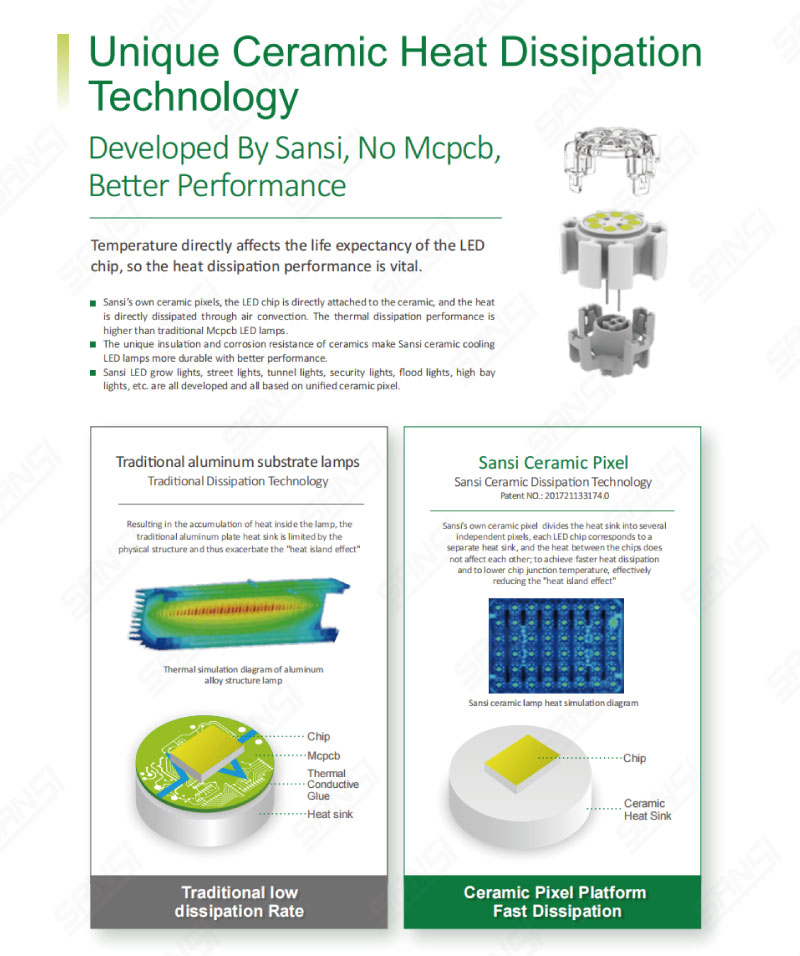 Ceramic heat dissipation technology products have the following characteristics:
-Independent pixels, hollow structure, more effective heat dissipation
-High light efficiency, low light decay, longer lifespan
-Strong insulation and corrosion resistance, withstanding the test of every environment
The North-South Expressway of Montenegro is a new peak in the "Belt and Road Plan", and it is of milestone significance for the cooperation between China and Montenegro. Through professional lighting products and systems, Shanghai Sansi has created a set of road lighting samples that exceed the international requirements for this cooperation, contributing to the construction and development of the "Belt and Road".
Nowadays, Sansi lighting products and systems have been applied in many large-scale lighting projects around the world, such as Hong Kong-Zhuhai-Macao Bridge, Jinan Yellow River Jiluo Tunnel, Jiangsu Nantong Garden Bridge, Xiamen Haicang Tunnel, Cyprus Highway, etc. In the future, Sansi will continue to focus on scientific and technological innovation while setting market demand as the orientation. With better LED products and professional solutions, Sansi will promote "Made in China" and "Construction in China" to the wider world market, while setting the "China engineering benchmark"!