Suning plaza, the CBD of Xuzhou put on a show of light featuring LED high technology, which is absolutely spectacular.The light show featuring Sansi LED mesh displays of 40k square meters lights up the night sky upon Suning plaza in Xuzhou, the displaying a bright colors making it the center of attention and present people with an amazing experience as if in another dimension like a dream.
Relying on strong comprehensive technological strength and project experience, Sansi team provided an overall lighting solution for this project that shines in the historical city of Xuzhou with a customized lighting area of over 40,000 square meters that wrap the Suning Plaza, and the project has won high praise from leaders from all walks of life who attended the lighting inauguration ceremony of the plaza.
known historically as "Pengcheng" with a new look. Xuzhou is one of the famous historical and cultural cities in China, known historically as "Pengcheng", a prefecture-level city in Jiangsu Province, the building of Suning Plaza is with a height of 266 meters is the tallest building and thus become the landmark.
Xuzhou landmark-Suning Plaza, total expense 6 billion with construction Area of 480k㎡. What's worth mentioning is the Sansi engineering team overcame the problems of project tight schedule, heavy tasks and difficulty, and successfully completed the project despite the harsh exterior conditions of strong wind and snow. Suning Plaza has also become the first high-rise building in Xuzhou to light up in the countdown to New Year that day.
35000m of LED display wraps the building construction area of 40K㎡. It's a grand project regarding the figures. Traditional lighting projects basically are realized by LED lights but for such a landmark of Suning Plaza, a building with a special design, Sansi innovatively used LED lighting Mesh Modules, roof beam lights and other LED products and system solutions, which not only met the individual requirements of special-shaped customization but also brought unique visual effect of the integration of lighting and display, becoming another beautiful local landscape.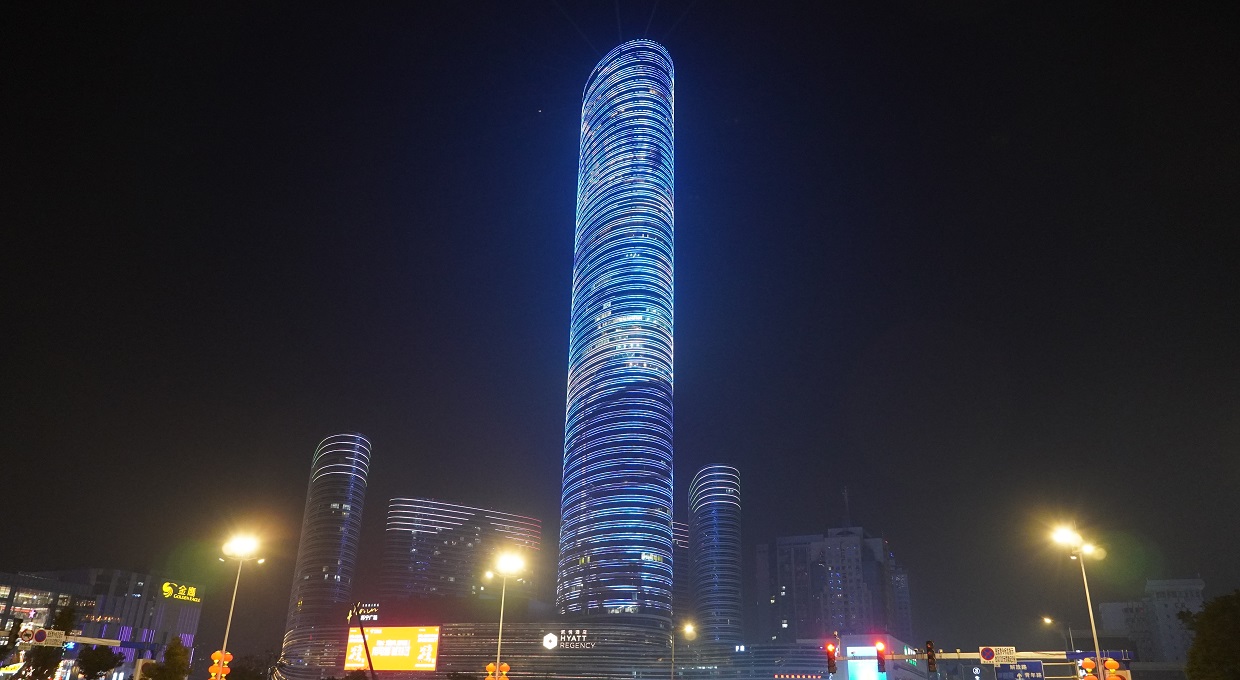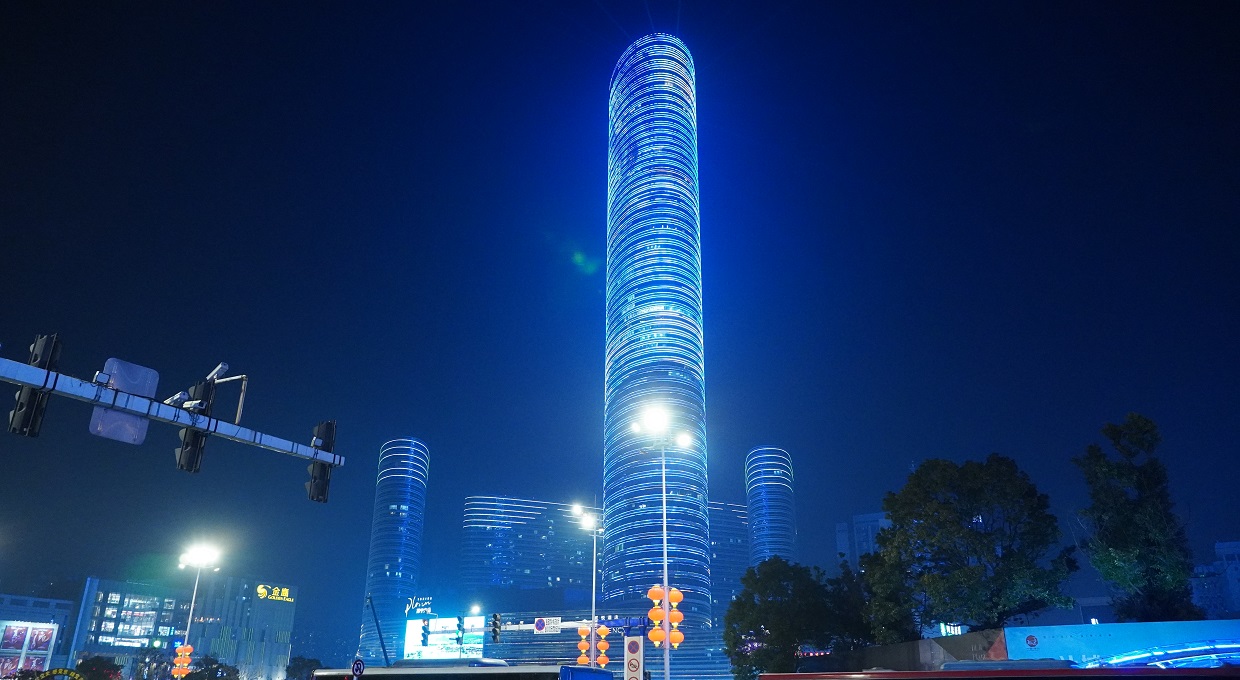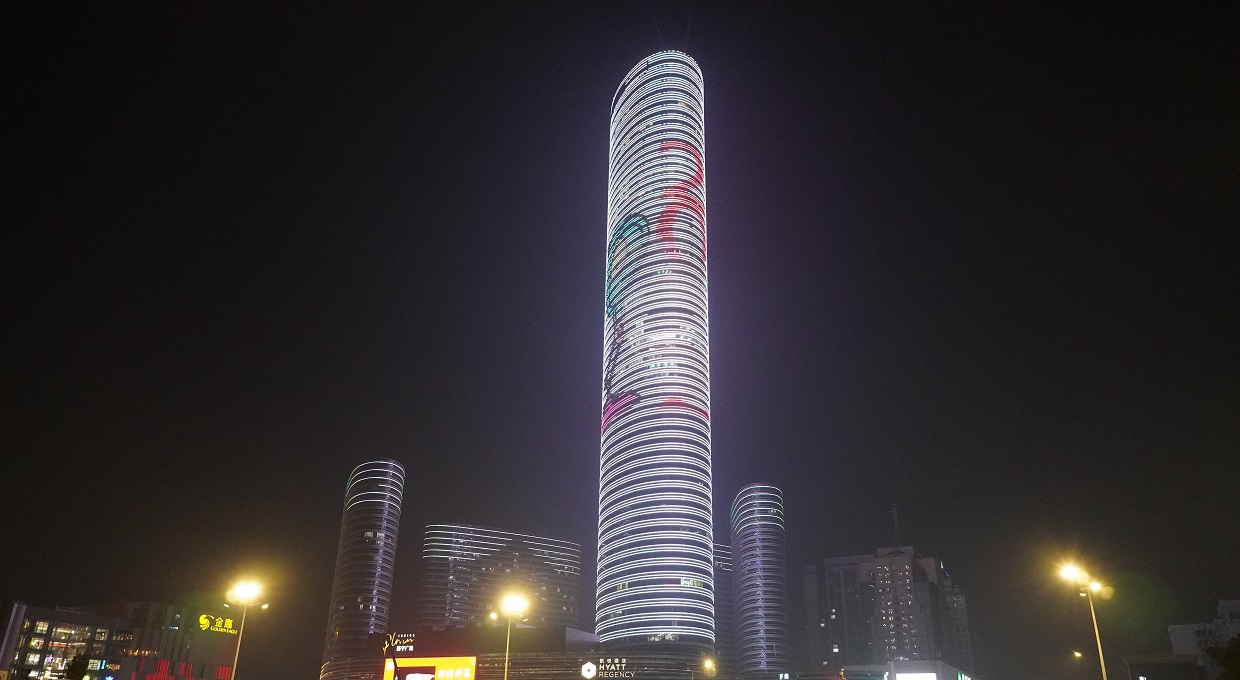 Sansi Overall Solution on City Building Light Show. Sansi LED mesh display is with multiple reliability and protection designs such as communication dual-loop backup and IP65, which overcomes multiple technical difficulties such as outdoor strong sunlight, rain, dust, etc., to ensure its normal and safe use in outdoor harsh environment conditions, and thus to effectively save later maintenance and replacement costs.
At the same time according to the radiation requirements of the surrounding residential buildings and fully taking the light pollution into consideration consideration, the overall lighting & system solution and design could limit the light radiation intensity on the surrounding residential buildings, so as to achieve a "people-oriented" humanistic design.
Including Suning Plaza, Sansi LED mesh displays have been well used in many domestic and foreign lighting projects, outlining and light up the contour of the buildings with light and presenting the thriving of the city.