On October 28, 2020, the Third Minpu Bridge, which is also the 13th cross-river bridge on the Huangpu River, formally opened to traffic. The bridge will further enrich the main road system in the western regions of Minhang District and Fengxian District and provide convenient transportation conditions for citizens. It is of great significance to the promotion of regional economic development.
SANSI was responsible for the whole process of the construction of the entire bridge lighting system. Besides Yangpu bridge and other 6 bridges, the Third Minpu Bridge becomes the eighth bridge across the Huangpu River that SANSI participated in the construction.
Before the implementation of the project, the lighting solution team of SANSI conducted field inspections to grasp the surrounding environment and the pavement information of the bridge. Considering the surrounding environment and the structure of the bridge, SANSI customized specialized lighting solutions for it, and the final scheme includes more than 1,000 sets of LED street lights, flood lights and guardrail lights for the bridge.
Shanghai has a subtropical monsoon climate, with abundant precipitation and typhoons throughout the year. In this climatic environment, the lighting equipment is more likely to accelerate aging and deformation, and some parts are likely to become brittle and cracked under the influence of low temperature. Different from the common LED street light products on the market that use traditional long-term waterproofing, SANSI LED ceramic module street lights adopt no-optical-cavity and no-electrical-cavity structure design, which has better waterproof performance. The ceramic materials are resistant to humidity, extreme temperature and rain erosion; And there is no need to worry about typhoons because of the anti-drop devices.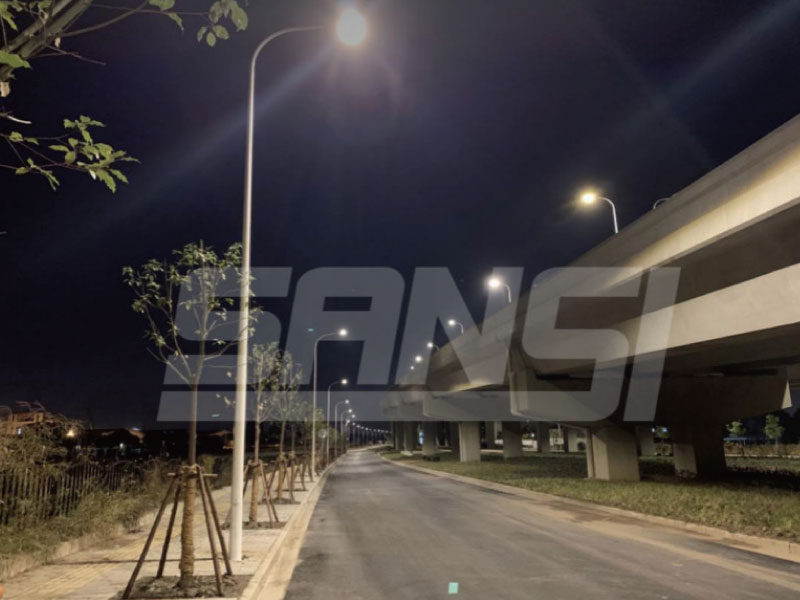 In consideration of the influence of surrounding environment on the road safety, SANSI selects independently developed LED ceramic module street lights as the lighting source of the bridge after continuous simulation experiments, which uses high-quality LED chips with stronger heat dissipation and lower light decay. The scientific light distribution design and reasonable installation angle ensures the uniformity of the light, providing security guarantees for citizens to travel at night.
The successful completion of the third Minpu bridge not only provides a convenient traffic condition for surrounding residents, it also embodies the strength of SANSI as an LED manufacturer in the field of road lighting.