The new SANSI 100W RGB floodlight was built using high-quality LEDs, which were constructed at the SANSI Jiashan factory in Shanghai, China. This 100W RGB has a slimmer shape that offers uniform light distribution by using patented ceramic heat dissipation technology.
The 100w RGB floodlight is designed to meet a wide range of applications including harbor, airport, highway, stadiums, yard, garden, etc.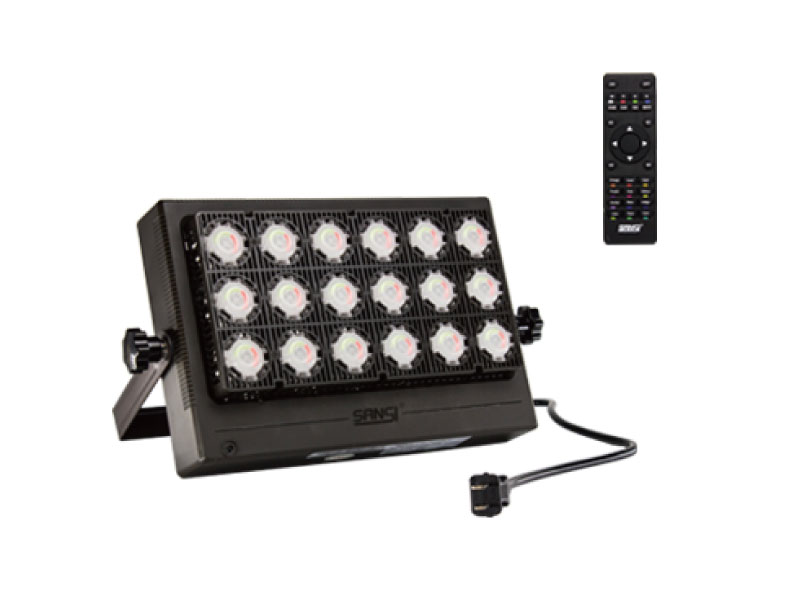 MAIN FEATURES OF FLOODLIGHT
Power Selection: Floodlights range from anywhere between 20W to 1000W. If you're looking for lighting up your front or back yard you should look into the lux level of the light in order to best see what fits. Generally, a back yard of around 40 square meters can be illuminated well by any light with a lux between 100-200, depending on how bright you would like your yard to be. If you would like to have a rough estimate for a garden of 40 meters squared you can work it out by finding the brightness: 40x100=4000lumens.
Durability: IP (Ingress Protection) rating is an international standard that shows the protection the light has against dust and water. The IP rating of an outdoor light would usually be IP65. The 6 in this instance is the highest rating of protection from solids getting into the fitting, usually dust. The 5 in relation to this light is its protection against water.
Heat Dissipation: Due to the fact that LED Floodlights are very powerful with super bright beams, there will be a lot of heat created within the light and surrounding the LED chips. Heat sink designs will dissipate the heat of the light efficiently and definitely prolong the life of your light. Overall, saving you a lot of costs in fixing and replacements.
SANSI FLOODLIGHT KEY FEATURES
Remote control & Memory Function: With 32 Keys IR remote control to vitalize this 100W RGB floodlight (remote control Sensing distance:20~30ft). One remote can control several lights. The improved memory function keeps the color and mode you set last time. No need to reset! Enjoy the colorful light decoration on children's birthdays, Christmas celebrations, Halloween or wedding parties.
16 Colors & 4 Modes: With a remote control provided, 16 different colors including daylight color lights are available. 5 dimmable settings can meet your brightness needs. It also offers 4 kinds of color changing patterns, including flash, strobe, fade and smooth. All the functions can meet all your needs for decorating a party, stage, landscape, and it can also be used for security lighting.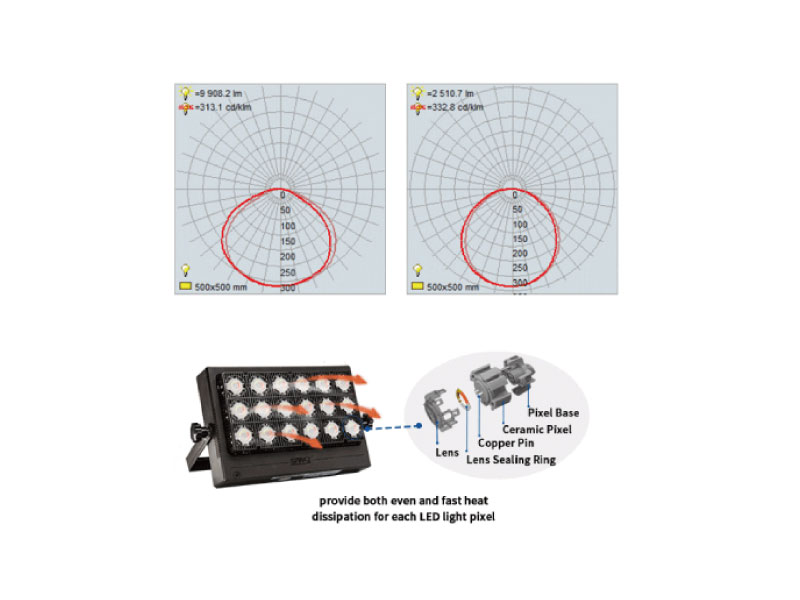 Patented ceramic combine unique optical lens, 100W RGB floodlight provides both even and fast heat dissipation for each LED light pixel. Its uniquely flat surface to conduct heat away from LEDs. Ceramic LED technology helps to reduce the cost of the bulb and improve the energy efficiency, while still delivering the perfect light distribution consumers expect from SANSI products. It also features flexible installation and lightweight design, making it easier to manage and maintain.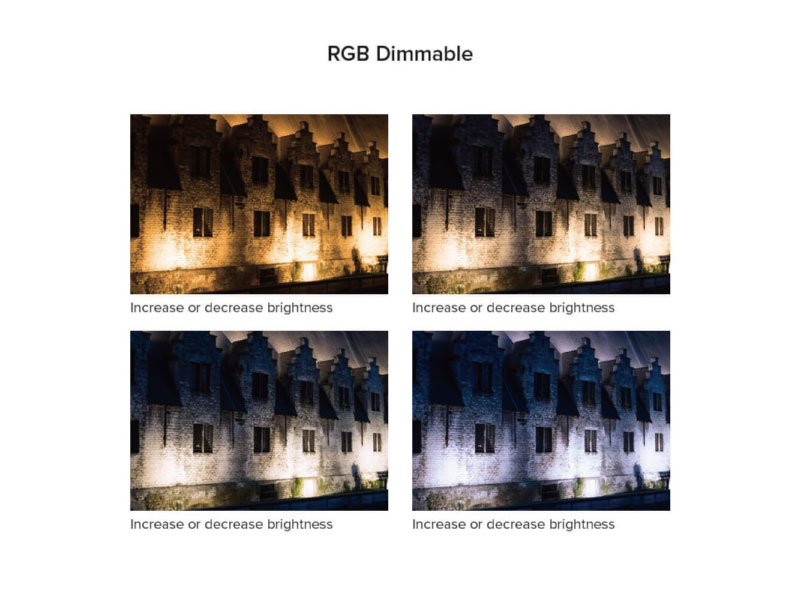 From floodlights to spotlights to security lights, SANSI offers the broadcast range of certificated LED lamps designed with the latest and most advanced LED technology avaliable on the market, Offering superior light quality that meets customer needs.