C-shaped overpass pedestrian bridge, the largest overpass pedestrian bridge in Shanghai. In 2011, this large scale C-shaped overpass pedestrian bridge was uneviled in Lujiazui in the Pudong district of Shanghai. Sice 2009, landscape lights from SANSI have highlighted the pedestrain bridge in a very simple but particulary effective and striking way.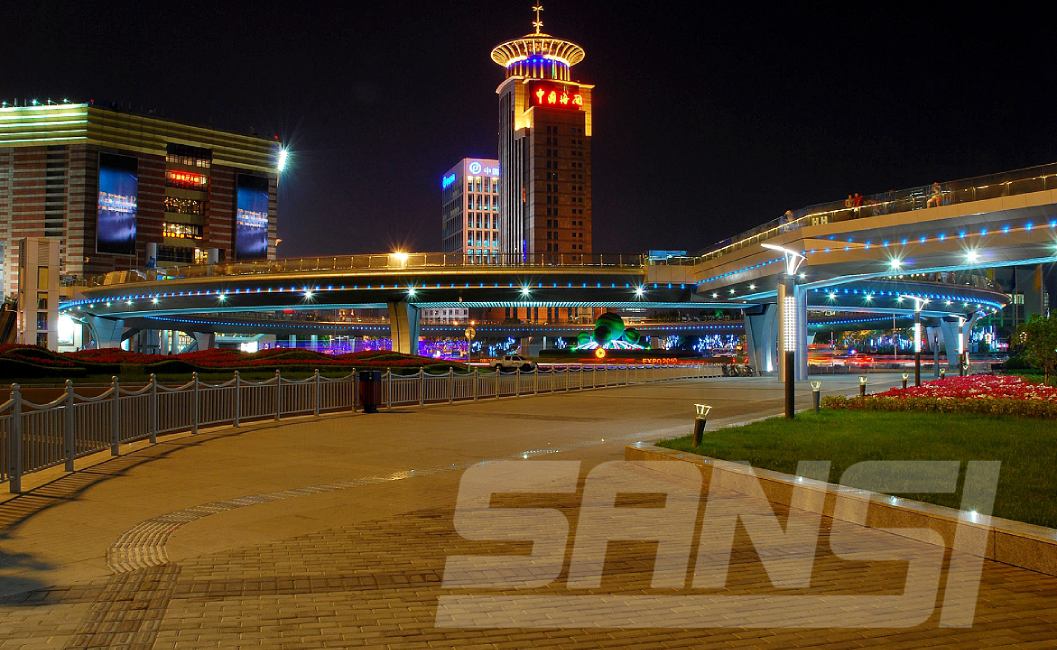 The C-shaped overpass pedestrian bridge enables pedestrians to avoid traffic at the round-about terminus of Lujiazui Rd. The bridge provides access to the Oriental Pearl Tower connecting financiers to leisure areas such as shopping malls and cafes, a transit station and office buildings. SANSI has actively participated in the site survey, lighting supply, construction and maintenance. We have manufactured and provided LED stripped lights, high-power LED wallpack lights, LED full-color lights, etc. It is a modern sustainable lighting solution – efficient and energy-saving, powerful and durable, low-maintenance and easy to maintain.
The C-shaped overpass pedestrian bridge serves as an extremely important traffice hub for pedestrains and it is the most representative lanmark in the area. According to the characteristics of the bridge and lighting design requirements of city construction, the pedestrain bridge is divided into upper and lower floors. The upper part of the pedestrian bridge adopts SANSI LED stripped lamp, the high-power LED wallpack lights were installed around the column while 1136 sets of LED full-color lights were installed under the bridge.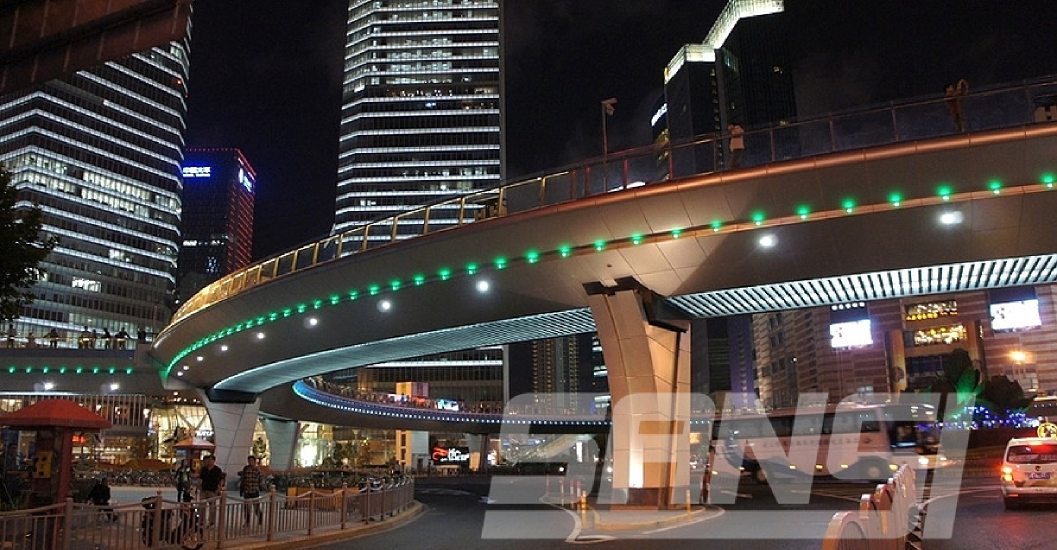 The compact yet powerful landscaped lights combines high-intensity LEDs, multiple customization options, and a bright light output. Controlled via aan intelligent contro system, the solution can be programmed to trigger specific lighting scenarios based on specific dates and times. Four separate schemes were created to distinguish between standard and special days. The bridge is bathed in red and white light on national days, in green, red, and white during Warsaw team games, and the system defaults to slow color fades on regular days.