Venues & arenas are turning to digital display technology to change the game - transforming the experience of being a spectator in an arena into immersive fan experiences. With exceptional brightness, a wide range of pixel pitches and customizable models, SANSI LED center-hung displays deliver essential scoring information with superior image quality.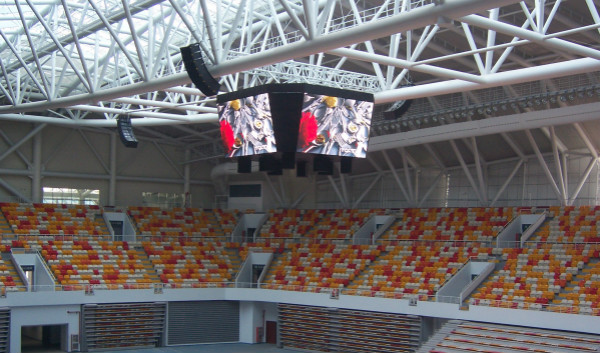 Basketball fans of Songjiang University Town will enjoy a whole new game-day experience this coming season inside the Songjiang University Town Center in Shanghai, thanks to the updated centre-hung video display and custom audio systems installed by SANSI.
"Our new SANSI video boards and sound system have greatly enhanced the game-day experience for fans and corporate sponsors, as well as the teams. The Songjiang University Town Center has a great new energy," said Mr. Wang Yinghua, director of SANSI.
Inside the Songjiang University Town Center, the center-hung features a four-side video display. The four main video displays are capable of showing one large image to highlight live video and instant replays. They can also be divided into separate windows to show a variety of vivid graphics, colourful animations, up-to-the-minute statistics, scoring information and sponsor advertisements. Installed above the court, these displays incorporate excellent image clarity and contrast with wide angle visibility providing optimal viewing for all fans. From center-hung displays to end boards, SANSI provide a wide range of indoor and outdoor LED video display solutions to meet the need of any scoreboard applications.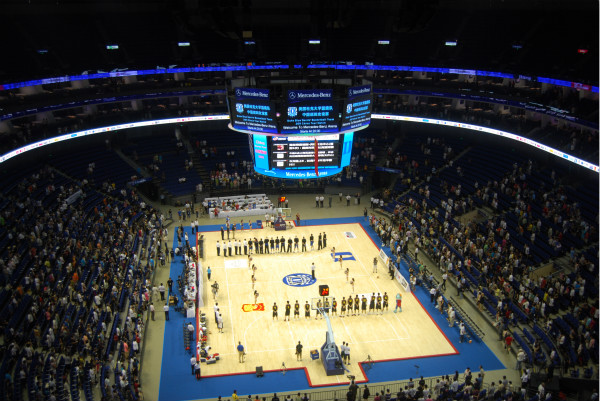 In 2012, the first NBA standard compliant scoreboard in China is designed and manufactured by SANSI. The Mercedes-Benz Arena formerly known as the Shanghai World Expo Cultural Center, is an indoor arena located on the former grounds of Expo 2010 in Pudong, Shanghai. It is owned and operated by the AEG-OPG joint venture. The arena has become the most popular arena in mainland China since it opened in 2010. SANSI worked closely with OMEGA to fully provide a unique timing and scoring system, which will display real-time scoring and have a huge impact on the game-day experience for fans, sponsors and student athletes. In addition, SANSI also designed and installed a ribbon display surrounded the court, it provides the opportunity to highlight sponsor advertisements and show real-time statistics. SANSI LED video and messaging display technology offers a long lifetime with minimal maintenance and low power consumption, providing value and excitement for years to come.
Today's Sports and Entertainment Venues are facing heated competition from new facilities, as well as broadcast and media. LED displays are a key solution to draw maximum fan attention. SANSI large-format video screens utilize patented LED technology to deliver bright, seamless, high-resolution messaging in virtually any shape, size or curvature, driving vendor and sponsorship revenue.