LED Floodlights have become increasingly popular over the last few years. Due to the fact they have a super bright and wide angle beam. They are fantastic for indoor and outdoor lighting. Because of well-known versatility they have now been adopted for 3 main purposes. Here are indoor lighting, ambient lighting and advertising.
Why need LED Flood Lights?
Most people nowadays prefer colorful life, because our usual work pressure is relatively large. If there are only two colors in black and white, it will make our life more depressed. Then we want to relax by means of entertainment, and we definitely hope that the environment we live in is more lively. The RGB floodlights can make some places more lively, for example, we often go shopping. The lights used on the streets are all kinds of, and in this way to attract customers. There are also many stars who may use such lights when they open a concert, so that we can watch the concert better.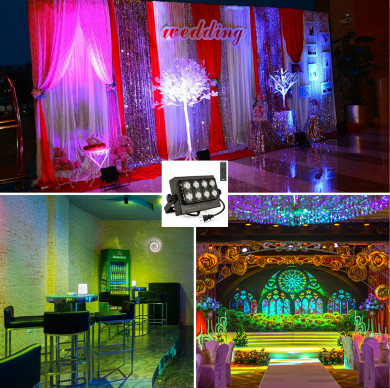 Many of the more prosperous cities now emit a variety of colors as soon as they arrive at night. The color of the light is mainly to bring out the atmosphere, and the color of the light used in different occasions is different. For example, the lights used in some bars must be five-green, so then they need to buy some special lights. RGB floodlights are a more common type of use, and the price is not particularly high. The RGB floodlights are available in red, green, and blue. These three colors can be combined into a variety of colors.
Therefore, a good quality RGB floodlight is necessarily to be prepared when you got some important activities. Here are some tips for you to choose a better RGB floodlight and let you enjoy your parties!
How to choose RGB floodlights?
Color and Brightness
First of all, brightness is a measurement of total light output. Provided below is an estimated conversion chart in order to give you some idea of how many colors you will be looking for when you're replacing your bulbs. Understanding how many colors it had actually makes buying your new RGB lights much easier as you desire. Sansi 50W RGB floodlight has 16 fixed colors: white, red, green, blue, orange, coral, gold, purple, pink, yellow, orchid, navy, indigo, lime, aqua, cyan. In addition, 8 changing models are another good functions to reflect the happiness of scenery. They are strobe (white flashing), flash (circular dimming in 7 colors), smooth (7 colors changing with smooth transition), fade (fading in 7 colors), M1 (red flashing), M2 (green flashing), M3 (blue flashing), M4 (yellow flashing). Sansi RGB floodlights improved 16 steady colors, satisfy all your needs for stage lighting, decorative lighting, landscape lighting, security lighting and so on.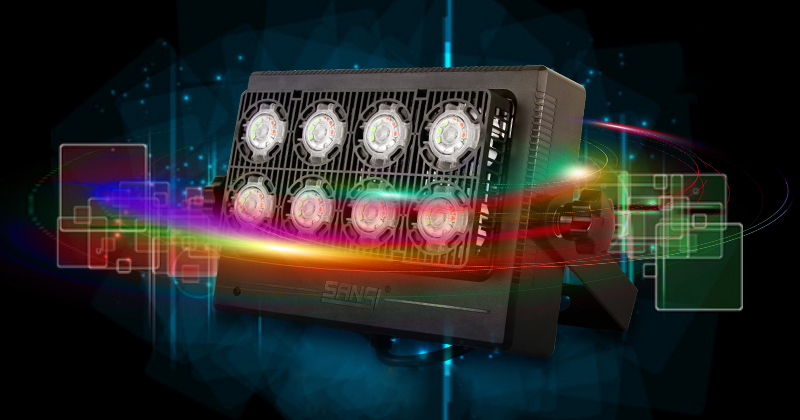 Lighting controls
The lighting controls play a huge part in your selection of what light to use. The most popular type of floodlight is a motion detecting with switches that use remote control in order to full operate both indoor and outdoor. Sansi outdoor RGB LED flood light remains color and mode you set last time, no need to reset if connected with timer. One remote can control several lights. The range is about 20~30ft. When setting 16 fixed colors, you can adjust brightness and speed in 5 levels with different buttons. Like flash, fade, smooth modes. 360°rotating thumbscrew knobs of the flood light allow multi-angle adjustment, you can easily fix the flood light to a desired position. Allow wall mounting, pedestal mounting and ceiling mounting. Standard black and white wires make retrofit and installation very easy.
Energy savings
Watts measure the amount of power your bulb is using. Higher Watts is equal to a higher electricity bill. They do not measure the brightness of your bulb. Over recent years due to the use of traditional incandescent bulbs, the amount of watts your bulb had was related to its brightness. However, now with new energy efficient bulbs such as LED's. More brightness you could enjoy with less waste.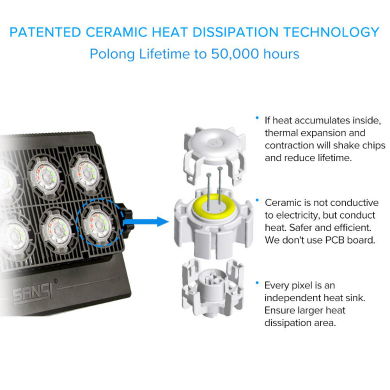 In addition, Sansi Patented Ceramic Heat Dissipation Technology, excellent chip welding tech makes 50W LED Flood Light outputs up to 5500 lumens, 110lm/W, consumes much less energy, saving 85% on your electricity bill. Patented ceramic heat dissipation technology(CHDT) and unique hollow-out structure ensure better dissipation efficiency, prolong lifetime to 50,000 hrs.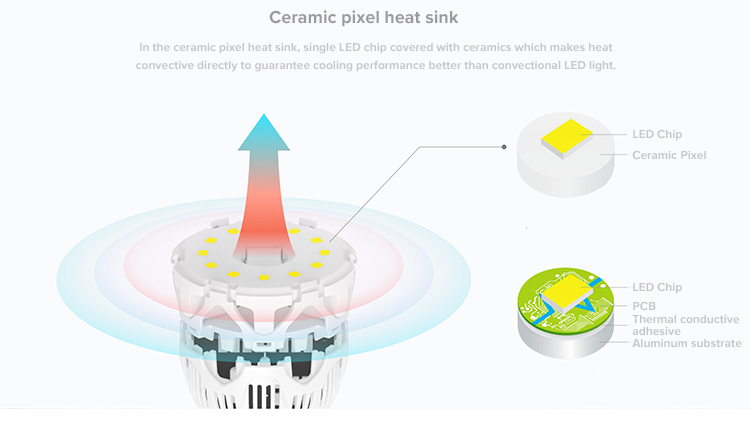 RGB floodlight are becoming an increasingly popular choice. They actually have a lot of other uses all year round too! This light you are ready for any event in the future be it a wedding, garden party or you would just like some extra lighting in the yard. RGB floodlight makes a great addition to the home. As mentioned three reasons for selecting the best RGB floodlight to decorate your house and garden!