Manufacturers and industrial leaders face mounting challenges in today's economic environment. Their pressure is on for industrial facilities to perform better and more reliably to meet their quality targets, customer expectations - and financial goals. Better lighting is a valuable tool for brightness industrial prospects. New, efficient LED high bay lights are definitely a key solution to improve operational efficiencies and boost productivity. Now, how to choose the best LED high bay light for your industry?
Definition for High Bay Light & General Applications
Generally, high bay lights are used to illuminate spaces with high ceilings. That usually means ceilings ranging from 20 feet to approximately 45 feet. Given their placement, high-bay lights are natural fits for commercial and industrial uses. They have multiple applications across a wide range of industries, including storage facilities, warehouses, workshops, parking garages, gymnasiums and supermarkets, etc.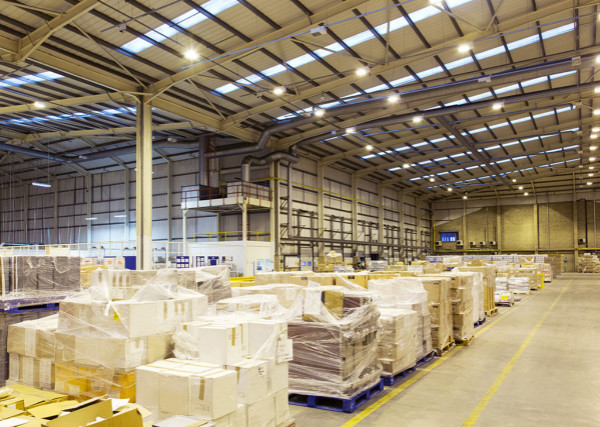 How Honeycomb Heat Dissipation System Provide Further Energy Savings?
Energy is a large component of manufacturing costs. Actually, it refers to annual operating hours multiplied by electrical cost (kWh). So leading manufacturers look to high-efficiency high bay lighting for positive impact on the bottom line. The first thing they should consider when choosing LED high bay lights is the lighting structure. Actually, this is because lighting structure affects heat dissipation effects. Which kind of structure is benefit for heat dissipation? Research shows that honeycomb structure is the best. Now, let's take SANSI high bay light as an example: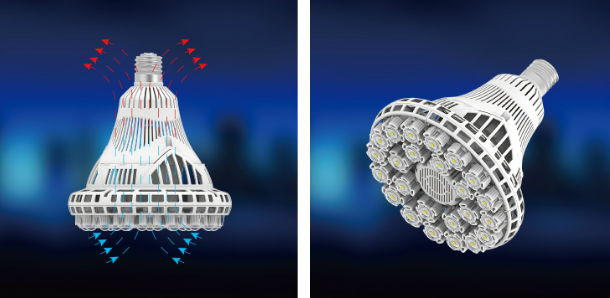 The geometry of honeycomb structures can vary widely but the common feature of all such structures is an array of hollow cells formed between thin vertical walls. SANSI high bay light is faddish and simple design style with linear cooling structure which could increase air circulation and have excellent heat dissipation effect. SANSI honeycomb heat dissipation system fastest heat transmission and effectively reducing wind resistance.
Additionally, a single ceramic is an independent ceramic heat sink, and LED chip are molded to ceramic body with a thermal adhesive, no PCB.
Operations directors and manufacturing executives have to take into consideration not only the structure of the high bay light, but also LED technology and optical lens manufacturers adopted. LED technology is a key factor in determining lamp life. Currently, LED lights are more safe than high intensity discharge lamps and fluorescent lights. Also, LEDs need very little electricity to provide sufficient brightness and LEDs do away with costly maintenance with their durability. Even though there are many LED high bay lights with adopting various LED technologies to choose from, it is still tough to choose the best one. What LED technology makes SANSI different?
Patented Ceramic LED Technology - Economical, Energy-efficient and Long ifetime
The Ceramic LED Advantage
SANSI's advantage with high bay lights is its ceramic technology. Ceramic dissipates heat more efficiently than aluminum and it's not conducive to electricity allowing our LED chips to be molded directly to the ceramic. Fewer pieces mean less heat. Ceramic is more corrosive resistant vs. aluminum to better deal with moisture and air pollution. SANSI LED ceramic high bay Lights are suited for the tough environment with high quality LED chips. SANSI Independent Pixel Heat Sink Technology provides both even and fast heat dissipation for each LED light pixel. LED chip(s) for SANSI LED high bay Lights are both PC board and thermal adhesive free. The optic lens is secured to the ceramic that houses the LED chip(s). Here is a comparison between new heat dissipating method and traditional method.

Optics with the Light Flux Ray Method (LFR)
Understanding how optical lens impact the high bay light is definitely important for operations directors and manufacturing executives. It's essential for manufacturers to choose the right high bay lights for their facilities. At first, what's lens? A lens is a transmissive optical device that focuses or disperses a light beam by means of refraction. The optical lens in any LED lighting system are crucial elements of that system's performance, as they alter the directionality and intensity of light from the LED source. Using reversed optical designs and software, SANSI simulates the optical parameters of the coverage area to calculate the lens model. Optical technology ensures that 93% of the light emitted is contained within the customized beam angle. SANSI optic lenses prevent optical loss and uniformed light distribution. The multiple options for optics in LED lighting have created new ways to generate and focus light onto specific areas and to optimize the benefits of that lighting for the underlying application. SANSI offers a variety of optical lenses according to different heights of applications. The illuminance values of the central position and the peripheral position are basically the same. 60 °suitable for high ceilings, 90°suitable for medium ceilings, 120°suitable for low ceilings.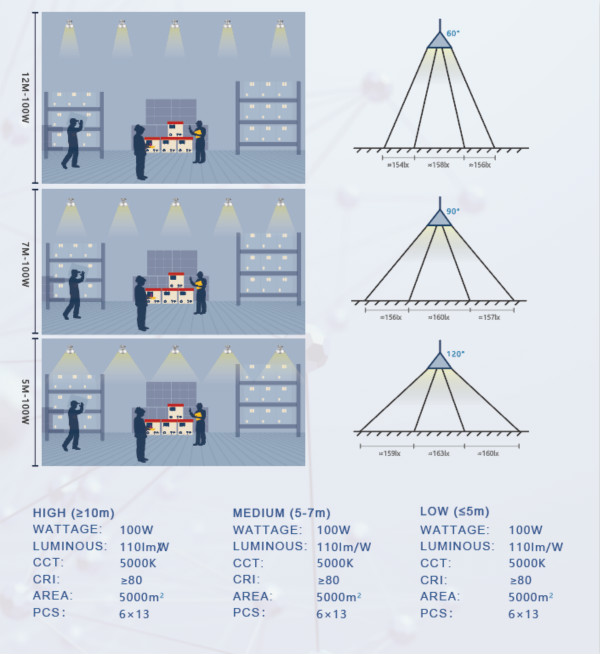 Recommended Products
SANSI High Bay Lights
| High Bay Light (Watts) | Color Temperature (K) | Brightness/lumens |
| --- | --- | --- |
| SANSI 60W | 5000k/6500k | 6600lm |
| SANSI 100W | 5000k/6500k | 11000lm |
Today's industrial and distribution facilities must be responsive and profitable. Better lighting is a valuable tool for brightening industrial prospects. It's essential for manufacturers and industrial leaders to choose the right LED high bay light for their industries. SANSI high bay lights have been already proven to be the most efficient industrial lighting solution in a wide range of applications.