Concerning lights, humans spend 85% time using them in daily life. Lights are crucial to us especially at nights. How about combining lights and safety together? SANSI LED Security Lights, as a human centered lighting, it can bring safety to your places.
Improving Safety Awareness
Why Safety Matters?
As far as safety is concerned, it is on the top of the agenda in most countries. On the one hand, the places in the western countries are in varied styles in ranch, traditional, bungalow, craftsman, cabin and so on . Most of them have yards, three-floor houses with a spacious gate so that it is easy for thieves to "meet" your places in the darkness. On the other hand, the crime rates increased a lot. Burglary and robbery are the highest proportion among these criminal behaviors. These crimes often occur at night. Undoubtedly, safety issues really matter on the top urgency. Safety awareness is gradually being valued.
Lighting for Functionality
Super bright with wide coverage.
The burglary often occurs in the night when people fall asleep. LED is the first choice when referring to the brightness. LED is very simple and easy to replace traditional light sources. Sansi security lights have LED bulbs to produce up to 2700lm brightness. The color temperature is 5000K which means it is equivalent to the sun light and you can enjoy any activities during nights. According to the different housing of the original fixtures, apply with different interface, it is unnecessary to remove the original housing and reduce replacements costs. Proper light distribution enables the original lighting environmental feel more comfortable. At the same time, the chic and delicate appearance of the lights makes the environment look more graceful and beautiful. Sansi security Light covers 861 square feet when being wall mounted at 8 ft, providing the brightness you expect in a high quality and highly efficient security light. They can be installed indoors, on walls, ceilings, and in doorways, or outside, on the exterior of buildings and homes.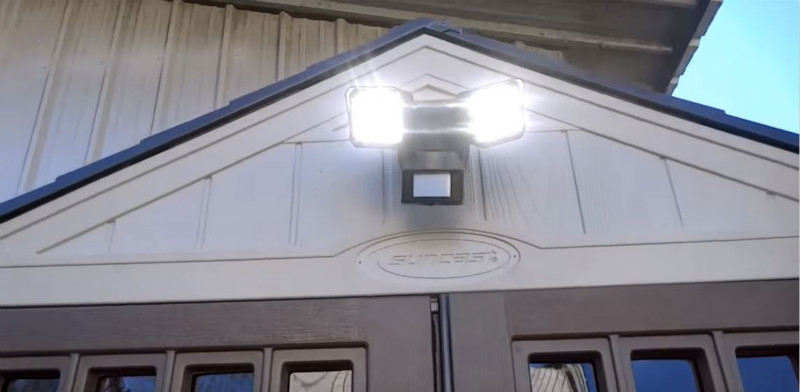 Assure your poverty value.
Auto on and off: Dusk-to-dawn photocell activates at nightfall and powers off in the daylight. Efficiency is of the importance. The auto function can prevent 20% of electricity from being stolen. Auto-on when motion is detected at night, auto-off after pre-determined time when no further motion is detected. Sansi will be no "false" detection with this light. Sensing light levels and motion are with a range of 180 degrees and out to 50 feet when being wall mounted 8 feet high. In addition, saving electricity with high performances. It is a real-time monitoring your property value. The equivalents of 200W incandescent lights and 70W halogen flood lights.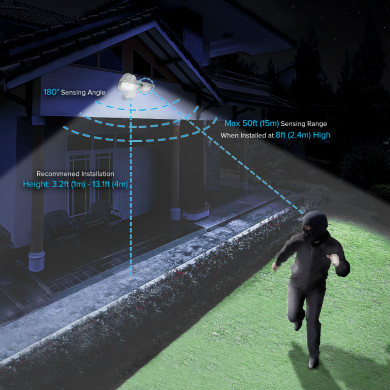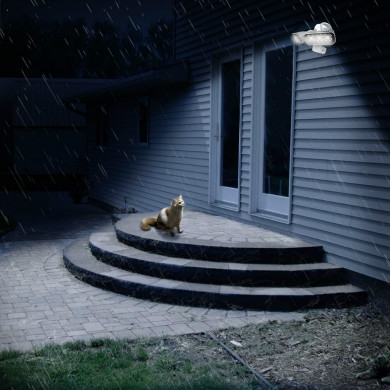 Energy Efficiency:
Sansi's LED security motion sensor light adopts our patented ceramic heat dissipation technology (CHDT), by which lighting performance and cooling efficiency are greatly improved, giving it the longevity you expect in a high quality security light at an affordable price. It can last for 50,000 hours lifespan. Here are also three test modes to improve the efficiency. Firstly, test mode can test the light before the first use or after maintenance. Auto-on when motion is detected and auto-off 3-7 seconds after no further motion whether by day or at night.Secondly, the motion sensor mode could be only used at night. If people or any other living objects pass through the sensing area, the light will be on automatically for 1, 5 or 10 minutes preset and off when no further motion has been detected.Last but not least, the manual mode can only be used at night. The manual mode should be reset every night if you need constant lighting at night, it could be set to 6-8 hours temporarily. Cutting down your electricity bill by up to 87% by replacing 200W with 27W.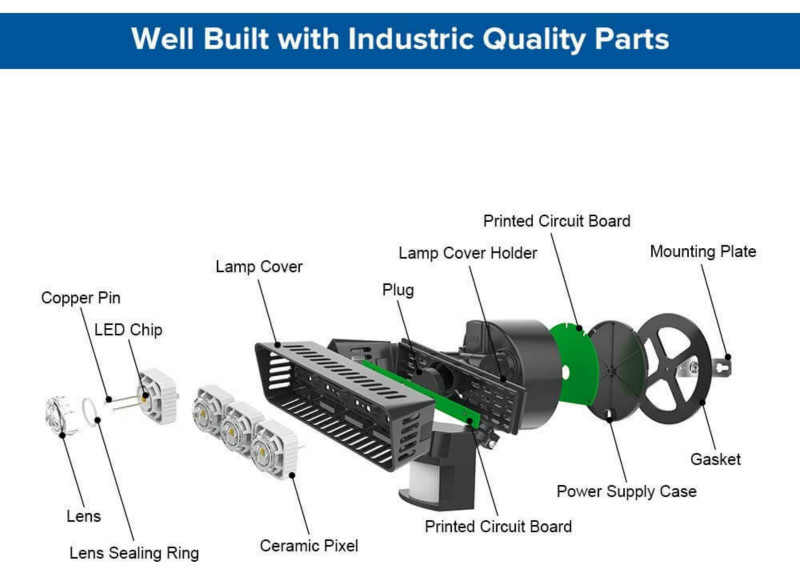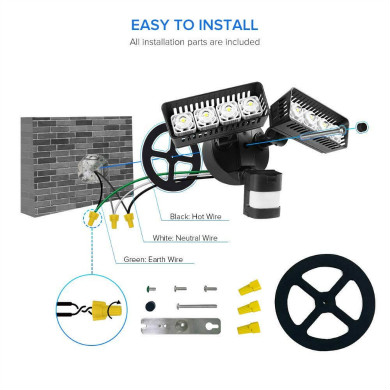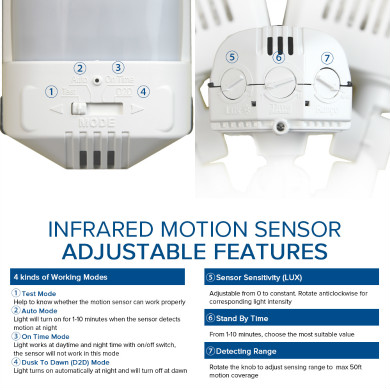 Tips for installing Sansi security lights:
Find the installation place where house wires(live, neutral and ground) are available. Strip wires 3/8'' (9.5mm) if not previously stripped.

Use impact drill to make a hole of ϕ8mm× ϕ50mm on the wall.

Insert the plastic expansion screw into the hole.

Objects that change temperature rapidly, such as heating vents and air conditions. Theses heat sources could cause false triggering.

If the fixture is mounted higher than 8 ft. (2.4m), aiming the sensor down will reduce coverage distance. The detector is less sensitive to motion directly towards it.

Keep the sensor at least 1'' (25mm) away from the light.

SANSI Security Lights
Conclusions:
Having Sansi LED Security lights can totally pay off in the long round due to its long-lasting lifespan. Eliminating worries about replacing bulbs that burn out usually. The Sansi security lights improve a better insight at night. Installing security lights to your home can truly enhance your living environments better in multiple areas.