For many enterprises, the showroom is an important external platform to show their R&D achievements or comprehensive brand strength to the customers. Breaking through the traditional form of showrooms and developing into digital information center is the mainstream trends among the enterprises.
As an effective bridge of e-communication, a digital information showroom not only takes into account the clarity of picture quality and the sense of design, but also a visual display platform that perfectly meets the needs of the audience: excellent display effect, high stability, even meeting diversified display methods such as mobile terminal projection, tablet control or PC terminal data comparison. With the development of fine-pitch LED display technology and users' stricter requirements for displays, fine pitch LED video walls are rapidly emerging in the digital showroom display systems of the enterprises. Sansi has contracted to build several classic LED display application cases of such kinds of corporate showrooms. Let's take a look:
This arc-shaped fine-pitch LED display (P2, 17.11㎡) was successfully installed in the Mengniu Dairy Headquarters building. The appropriate viewing distance, marvelous display effect and flexible splicing modules have jointly created this high-tech exhibition platform. In terms of functional configuration, it realizes ultra-high resolution signal input and possesses the capability of seamless splicing, wireless roaming, window display and intelligent management. In terms of image display, it could provide the viewers with full color visual effect and wider viewing angles, presenting to the guests Mengniu's outstanding and long-standing brand culture vividly.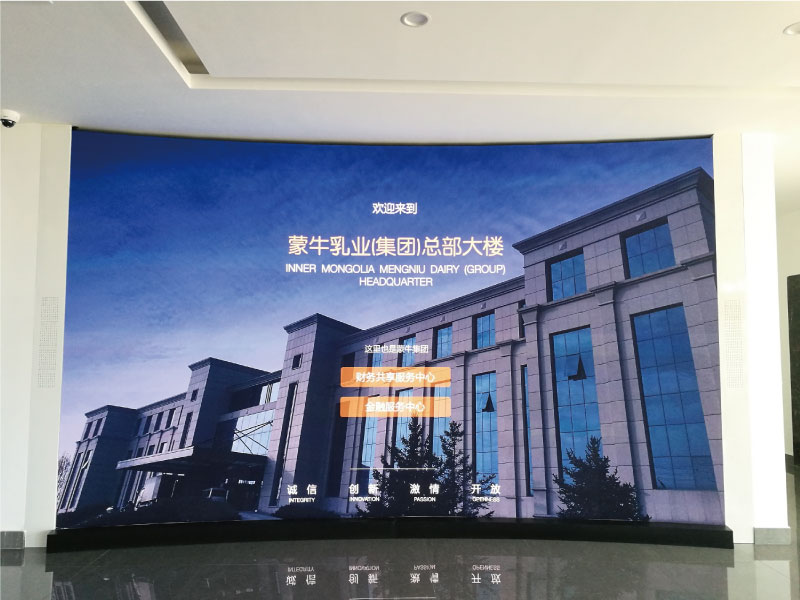 A magnificent curved large screen (P1.9, 138㎡) is placed in the hall in Sany Group, which is a well-known heavy industry enterprise in China. In order to achieve the different requirements for various content display, Sansi provides Sany Group with efficient and convenient LED display management: a simple and compact remote controlled LED display which can be quickly selected and switched through physical buttons. The content is played without the mouse or other obvious signs. At the same time, the staff can remotely control the large screen in all the surrounding areas of the LED screen through the digital devices or Apps. The large arc-shaped splicing display brings an immersive experience to the customers on site. The realization of functions such as one-key intelligent control and one-key switching of scenes in the exhibition hall not only improves the work efficiency of the staff, but also enhances the corporate image and wins the trust of customers.