We bring visual crativity to life. SANSI build high-end LED displays as vivid and dynamic as the imagination. With our clients, we've designed and built some of the most creative LED displays in a wide range of applications at home and abroad.
The Most Creative Design - LED Head Sculpture
SANSI North America custom-manufactured the LED technology for one of the United States'most intriguing interactive LED displays. The 14-foot-tall LED sculpture features a 5mm pixel pitch, 1.5"wide by 6"high (just 8 by 30 pixels). The interactive LED art piece includes more than 3, 500 LED panels and over 845, 000 pixels. Visitors can sit inside the sculpture and interact with a touch-screen monitor, and then 30 cameras as inside simultanceously take the subject's photograph from various angles, the resulting three-dimensional image is displayed on the sculpture.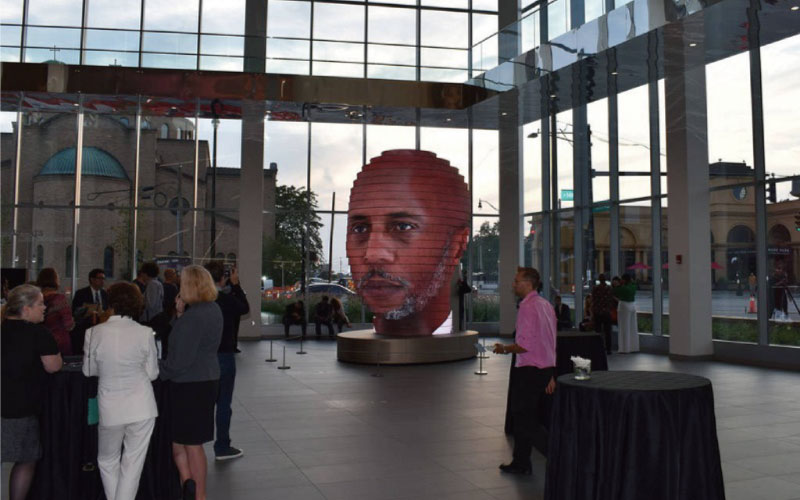 Redstar Macalline, Shanghai
Total 200 square feet, the display features 8mm pixel pitch, SANSI provided a turnkey solution for the project, those ribbon LED displays were installed on the ground with a perfectly ordered structure, creating a visual feast that complements other interior architecture of the building unit. LED displays wrapped around the escalator, the custom display serves as a welcome door for the building.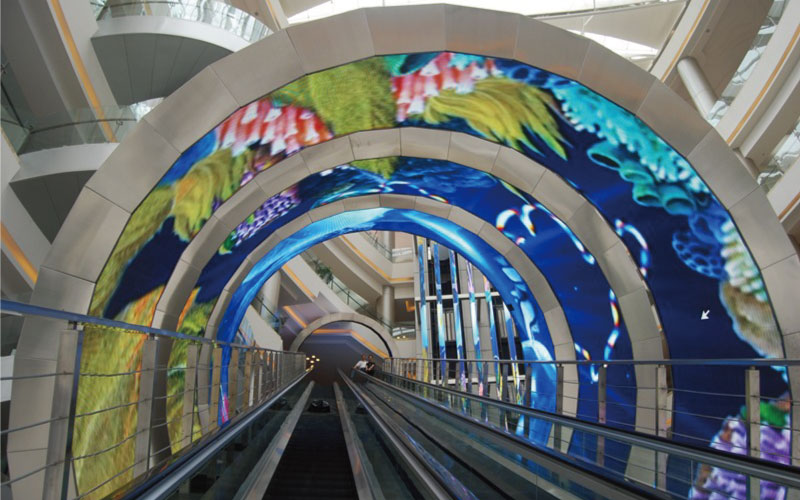 L-Shaped LED Displays at Short Hill Mall, NJ, US
The Short Hills Mall project consists of two separate LED video displays, both feature a 4 mm pixel pitch, meaning the center of each pixel is 4 mm (.16") from the center of an adjacent pixel.
The first 4 mm display rises from a concourse area of the mall in the view of second-floor viewers. It has two end pieces and a concave radius display. All together, the LED video screen is 816 pixels high by 3,216 pixels wide, a total of 2,624,256 pixels. The interior mall display is 10'9" x 42'3".
The second LED screen is an upside-down L-shaped display that also wraps around the exterior of an elevator shaft in the mall. In total, the 4 mm screen is almost 28 feet tall and consists of 2,101,248 pixels and approximately 365 square feet.